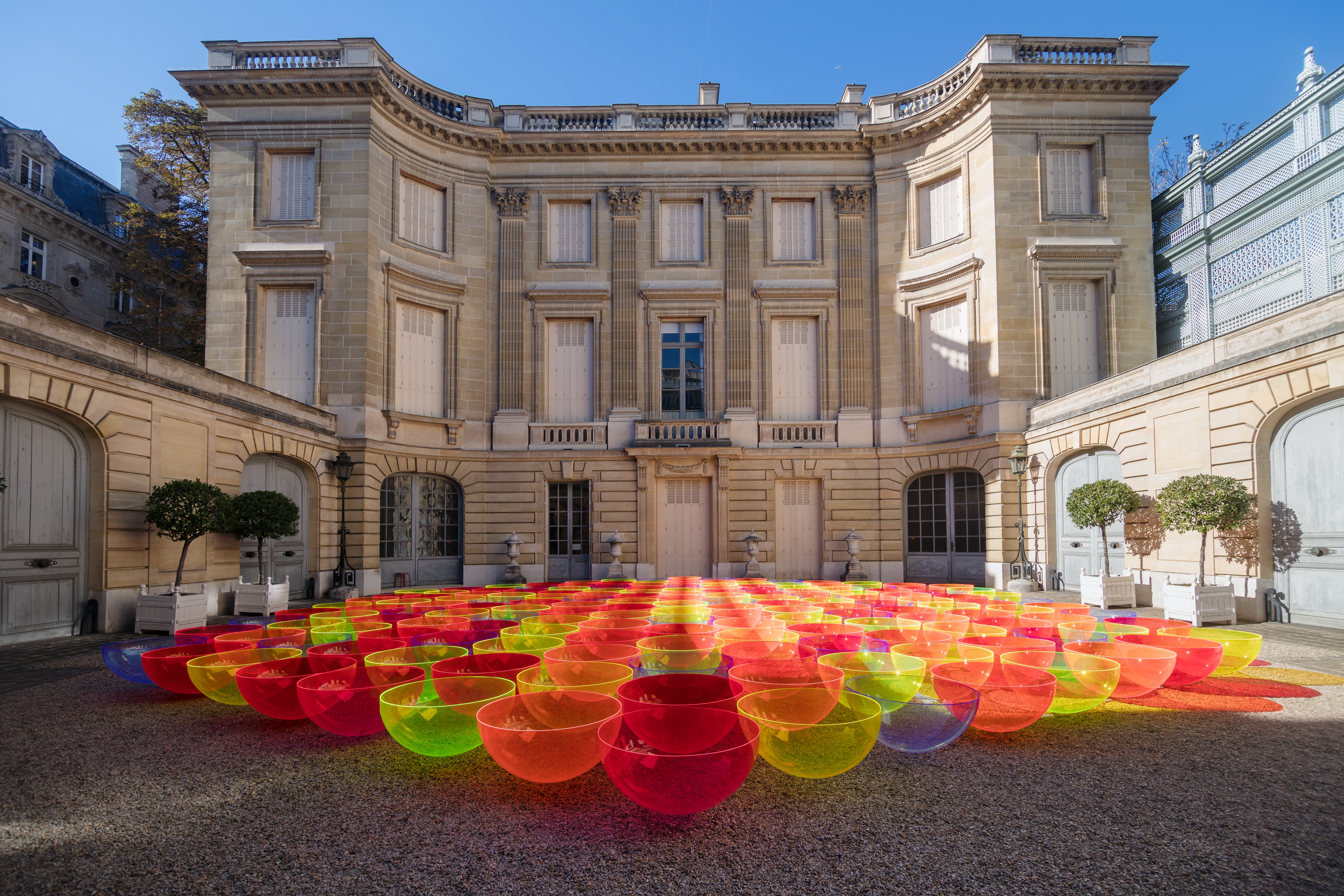 © Aglow by Liz West, 2018. Image courtesy Nemozena | Julien Philippy
LIZ WEST | AGLOW

Liz West's new installation work Aglow has been created in partnership with luxury clothing brand Nemozena. This ambitious outdoor work made entirely from luminous fluorescent acrylic launches at the Musée Nissim de Camondo for Paris Fashion Week.

Aglow consists of one hundred and sixty-nine hemispherical fluorescent coloured acrylic bowls arranged on the ground in a hexagon shape. The edges of these multiple unplugged fluorescent bowls in six neon colours will glow as if charged with electricity. These 'live' edges and choice of material embodies West's interest in the relationship between colour and light and their ability to enhance the viewers perception of the work.

Liz West comments about the new work; "The acrylic bowls offer a highly reflective concave surface enabling spectators the opportunity to see their surroundings in a new (fluorescent tinted) light. The individual bowls also serve as rain catchers, adding an extra dimension to the work and another reflective surface in which to observe the surroundings of the exquisite Musée Nissim de Camondo courtyard in central Paris." Used repeatedly in nature, the hexagon is a practical, economic, space saving polygon. West often utilises geometry and repeat in her installations to create large scale and impactful works.

Aglow is a collaboration inspired by the Nemozena's vision to celebrate female empowerment and showcase the brilliance and vitality of female individuals around the world.

Aglow by Liz West, is a new work commissioned by Nemozena for Paris Fashion Week, which will then tour to Dubai and Milan. The work was completed and launched on 26th September 2018. For further details about Aglow and about the future projects please visit www.liz-west.com. #aglow #lizwest #nemozena
September 27, 2018