In May 2020, British Painter Frances Aviva Blane was due to join psychoanalyst and writer Susie Orbach for a talk: 'Smashed Up Paint' at The Freud Museum, London, but the event was postponed due to the Coronavirus pandemic. Instead, Orbach visited Blane at her studio, where they filmed a 'socially distanced' conversation on the subject of the artist's paintings. The short film made by filmmakers Penny Alcock and Leo Regan, edited by Alex Fry, is called 'Two Metres Apart'.
We have transcribed the first part of the conversation to share on the Zuleika Gallery blog, with some images from the studio visit.
Susie Orbach (SO) in conversation with Frances Aviva Blane (FAB) at her studio during the Coronavirus pandemic, May 2020.
SO: We don't know what this period is going to mean, for artists or for anybody, whether it's going to be enclosed, associated, or it's going to provide compost for very fertile times for people.
FAB: I was here (studio) on the 18th of March, and then I wasn't here for 7 weeks.
SO: Why did you feel you couldn't come to the studio?
FAB: I was frightened. I couldn't work, I couldn't focus. I kept thinking of people dying and the emergency services. I was completely distracted. Whilst I've been at home, I've basically been doing the paintings that I can do. There are too many restrictions. There's paint everywhere, I can't move. And then the phone rings…
...What you have probably noticed here (studio) is it's not domestic. It's not comfortable, I come here and I work, and I go.
SO: What does the word 'work' mean?
FAB: Exploration. Focus.
SO: The exploration of the qualities of paint? The exploration of shapes...?
FAB: No. The exploration of paint, certainly, but the exploration of ideas. What's very good is to have the discipline of actually going to work. Even if it's awful. Then you come away and you think about it and you go back.When you're at home, you actually might have done something interesting but you end up destroying it because you go away and then you fiddle. You know? I need to make a gesture.
SO: I have dedicated spaces for different kinds of work for myself. I have a consulting room, and I have an office where I write. But during COVID, I've been writing at a kitchen table, by hand. It wasn't thought out, it was entirely spontaneous. And I was struck by it, I was writing about the body, so I wanted something physical, tactile, corporeal.
<Frances points to a large canvas painting on the floor>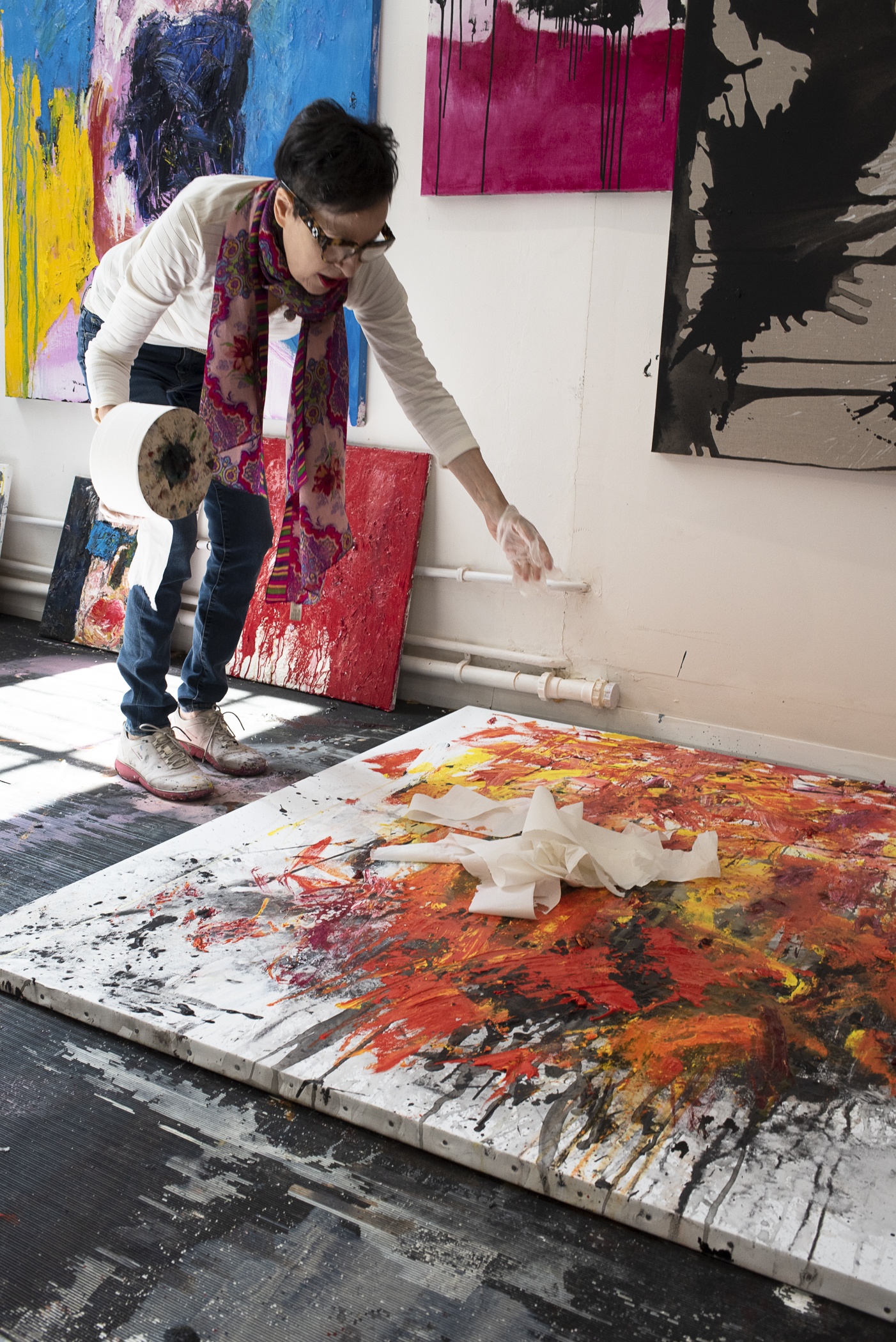 FAB: I couldn't have done that at home! I need physicality. It's not me, doing 18inches or 9inches. It's really not me.
<Frances picks up a small canvas painting>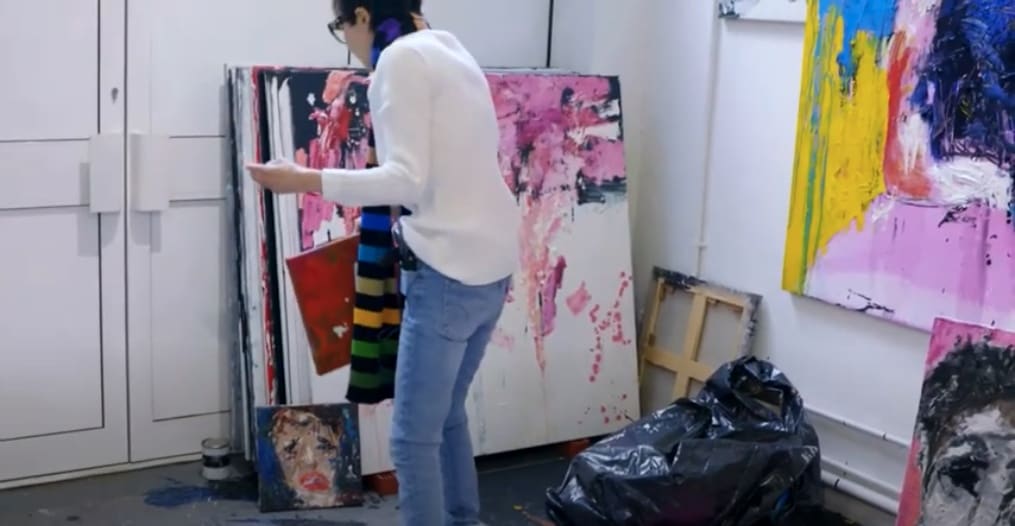 FAB: I did this at home, I think this is about as good as it gets…
SO: What I'm really struck with coming into the studio is what you're talking about. This intense physicality. I love the sense of abandon, at the same time as the constraint of the frame. To have that sort of knowledge of the medium and to surrender to it, at the same time as having an idea of what you are doing and where it's going, I find all of that 'mish-mosh' really interesting.
FAB: I feel very at home with paint. I just do. Wherever I go, at home., there's paint everywhere; there's paint on the taps, there's paint in the kitchen, there's paint by the side of the bath. There's always paint.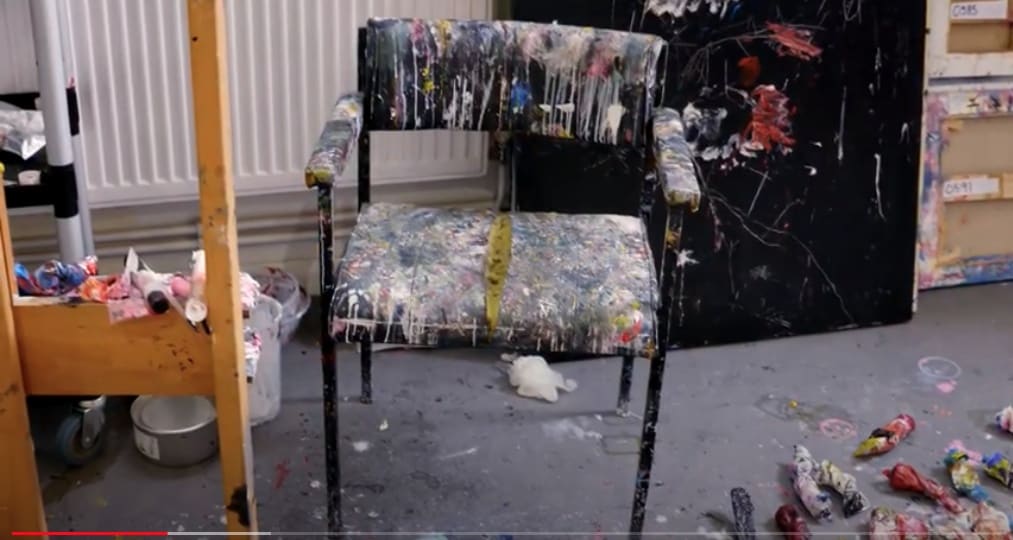 SO: So, paint is your language, it's what you inhabit?
FAB: Yes it is…That's another reason why I'm not great at talking…
SO: Well, you are! You know what? Could you give that one up because you're pretty good at talking! I just love the fact that you're experimenting, you're alive, just like a writer tries new forms, and doesn't write the same bloody book all the time…
FAB: Well, for me, that's what it's about. It's about experimentation.
SO: Exactly it's about process, and you're exploring and you don't know what you're exploring until you're doing it. Then you do know, and then you don't know…
FAB: I know, Susie, you prefer my 'Head' paintings.
SO: No! (laughs)… I know it was your 'Head' paintings that brought you to my attention; It speaks to the subject of my work, which is people in pain, people in agony.
FAB: I'm not in agony.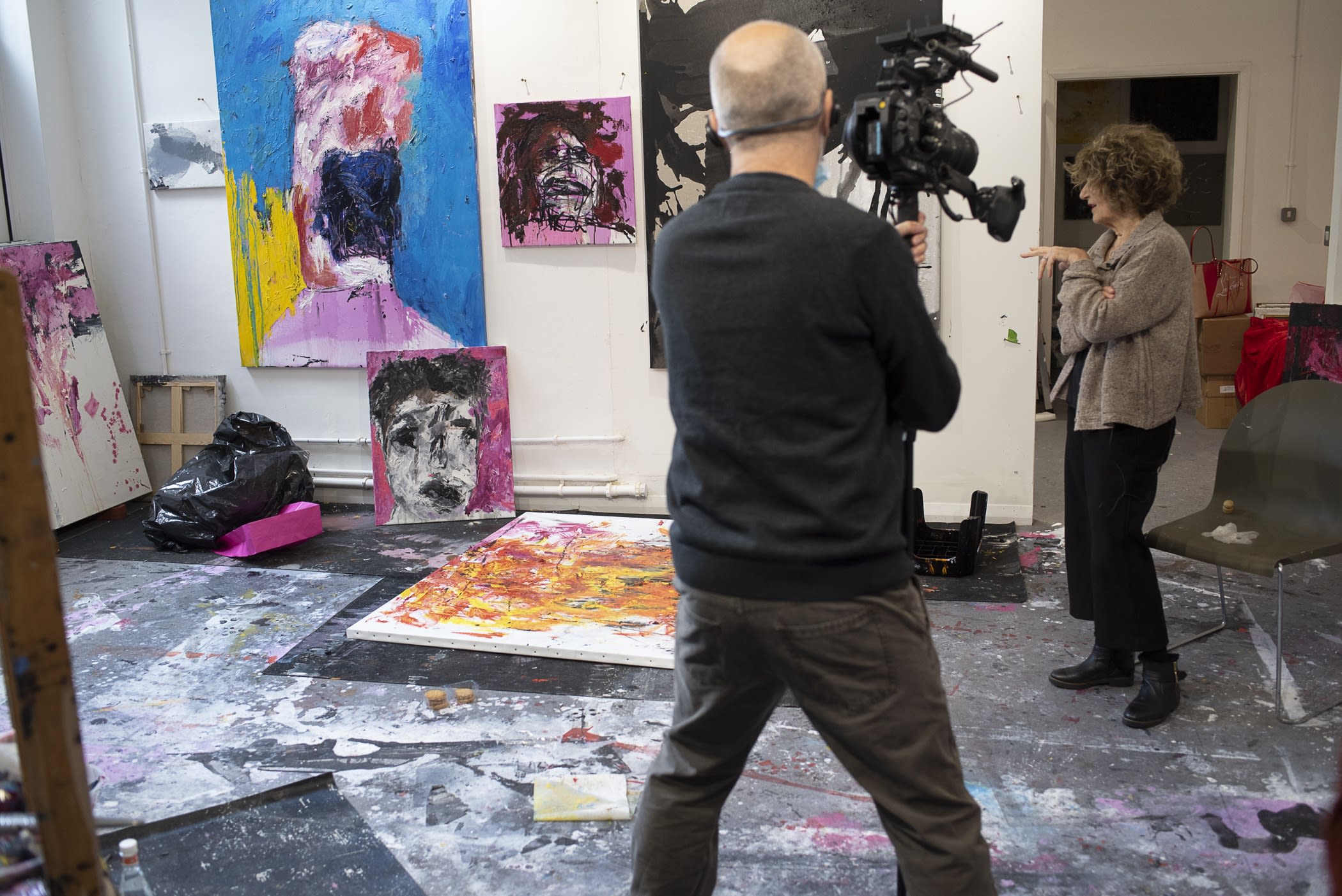 SO: No! (laughs) ... I'd rather look at your pinks, especially that one <Orbach indicates to a large painting propped up in the artists studio> Again, it's intriguing to me that its got joy but also quite a bit of sorrow in it.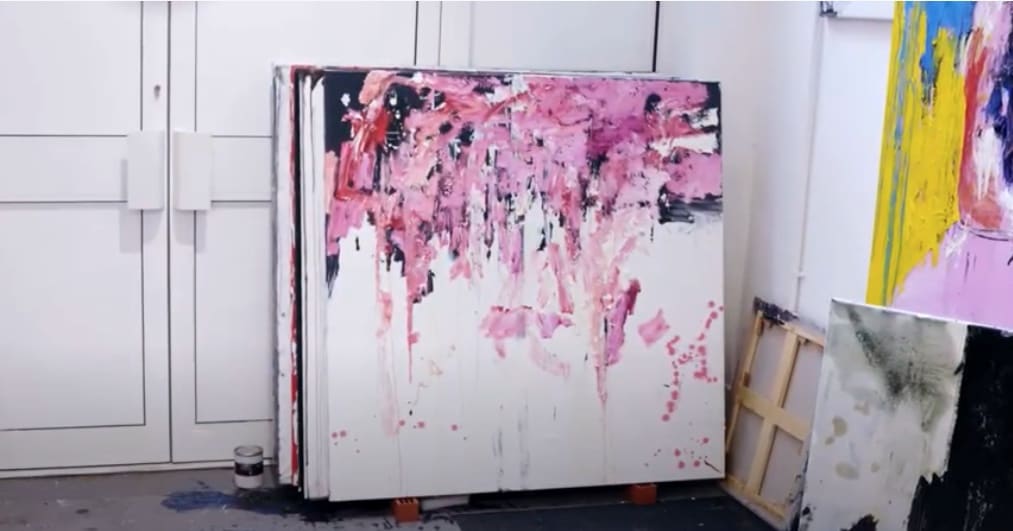 SO: You know how I feel about the faces; they're haunting, scary, anguishing. I can't look away from them, I can't stand to look at them, they drive me nuts! It's very interesting for me to look at the... (shrieks) look at that picture! For God's sake! All scribbled out. You're so cross! You were so cross, then!
FAB: That was lying near the easel with the big black one, and you said: "what is it?" I said "I don't know. It's too wet to look at."
SO: Yes. But that's like an angry little girl isn't it? Full of hope too, with the little flicked up hair… We have to keep moving around (the studio), it's very funny!
FAB: It's quite Freudian, isn't it!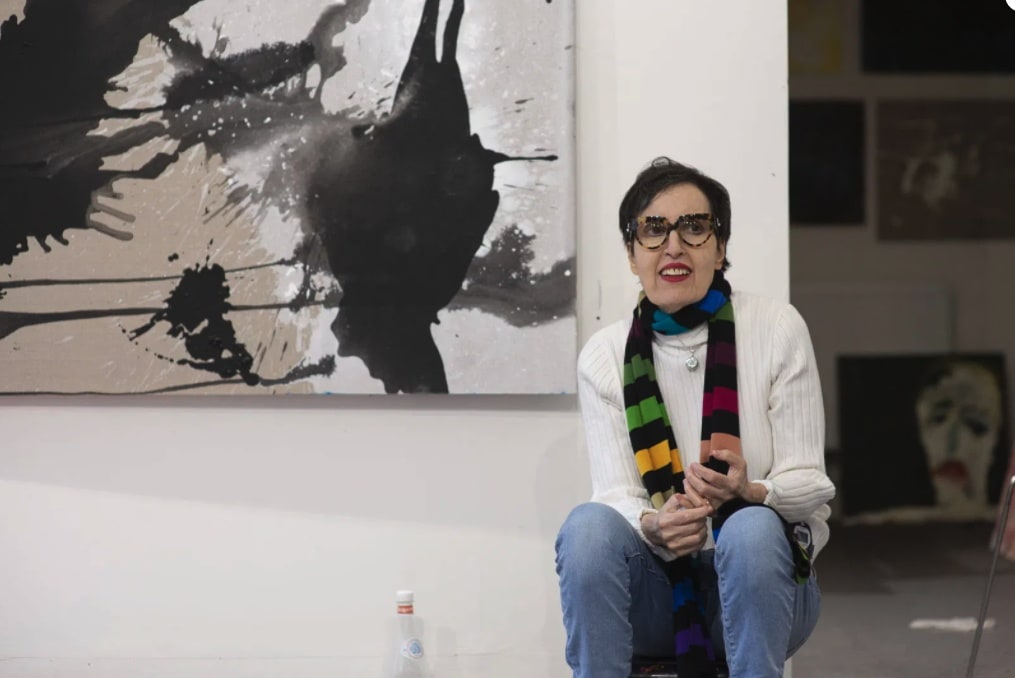 ---
Frances Aviva Blane studied post-grad painting at The Slade 1991-'93 and won a scholarship to Djerassi Artists' Colony. She is a recipient of a Jerwood Drawing Award and exhibits internationally, showing alongside Bacon and Bourgeois at De Queeste Art in Belgium. In 2016 Frances had a solo show at the German Embassy London.
Recently she's shown with Frank Auerbach, Basil Beattie, Susan Stockwell and Jane McAdam Freud. Frances was included in John Moores Painting Prize 2018 and published a book titled FAB in collaboration with Susie Orbach.
Blane's work is in many collections including The LSE, Jesus College Cambridge, The Tim Sayer Collection London and The Doris Lockhart Collection Frances Is represented by De Queeste Art in Belgium and Zuleika Gallery.