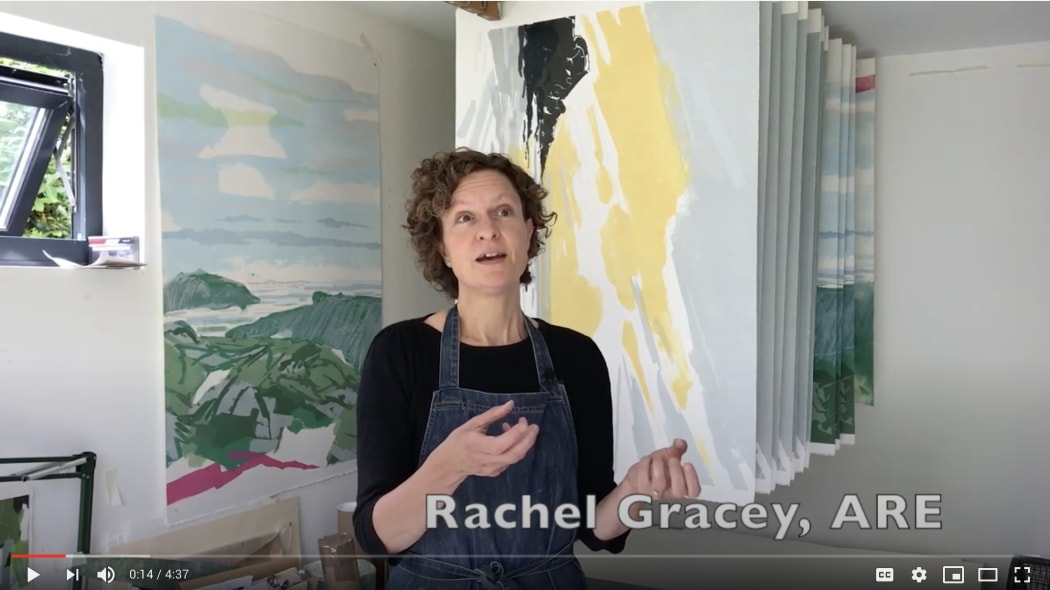 An Interview with Artist and Printmaker, Rachel Gracey R.E.
How did you come to specialise in lithograph printing?
I've always loved drawing and found that printmaking is a fantastic medium to push those drawings further. When I use silkscreen or etching or woodcuts, all of those printmaking methods are fascinating and they each have an amazing quality, but there was something about lithography when I first began that most intrigued me and most reflected the actual drawings I was doing.
Your work mainly features studies of landscapes, and you have a series of works that show scenes of Oxford, can you tell us about that?
I moved to Oxford about 14 years ago, and I arrived with a pram and a sketchbook and took both out exploring the new landscape that I was seeing of Oxford, the main place that drew my attention was University Parks and I was fascinated by it.
You use a traditional lithographic print press at your studio. Can you tell us about your print process?
I was so excited at the prospect of being able to own and run one of these large Mann direct presses but there was a bit of an issue about where to put it. (Using the print bed) I use a large greaseless plate and decide where I want the marks to go. I use chalk which is greaseless to help me with my original drawing. Pencils and crayons can be used as well, with water. What I love is that it can reflect whether I have used crayons in my studies or paints or pastels, or a fine line (with pencil). You can create a lovely density using a tusche (brush) which will create a lovely solid mark.
I love to build up the layering of the colours. I'll begin, for example, with a grey, and build up a second layer of another grey, then a final layer of a block of yellow. Each colour takes about 4 or 5 days to dry. I do an edition of about 10, ten greys on separate pieces of paper, I have to hang them up and wait for them to dry before I work on more plates for the next colour. I roll the ink onto the surface of the plate, and where I've made marks on the plate, the ink picks that up. Where I haven't made any marks, the wet surface of the plate resists the ink, and so I slowly build up ink ready for printing. I lay the paper on top of the inked plate and run it through the printing press to create the first layer of colour.
What is it about the outdoors and landscapes that inspires you and your works in lithography?
It was an incredible experience of going to the parks regularly and seeing the change of seasons, the different light, and how electric it could be, with a different shadow on a tree causing incredible effects over the water, over the the grass, and then with a change of hour it would look entirely different.
I love working outside, I love watching the seasons and the effect of the landscape and enjoy the changes of colour and want to record that change of colour in some way. Using lithography layer by layer I can create that depth of space, reflect something of the light, the colour, the extreme beauty that I've seen in the landscape, and in different ways, using different marks (in my drawings) I can build images up, but it is a slow working process that I can't speed up.
Video interview courtesy Richard Lofthouse at University of Oxford.
Gracey's solo exhibition 'The Pacific Coast' is open from Monday 17 August - 13th September. The exhibition of lithographic and relief prints features Gracey's recent body of work inspired by her travels to the West coast of California. Gracey's exhibition originally opened in Zuleika's London gallery in March this year but was cut short following the lockdown restrictions due the global pandemic.