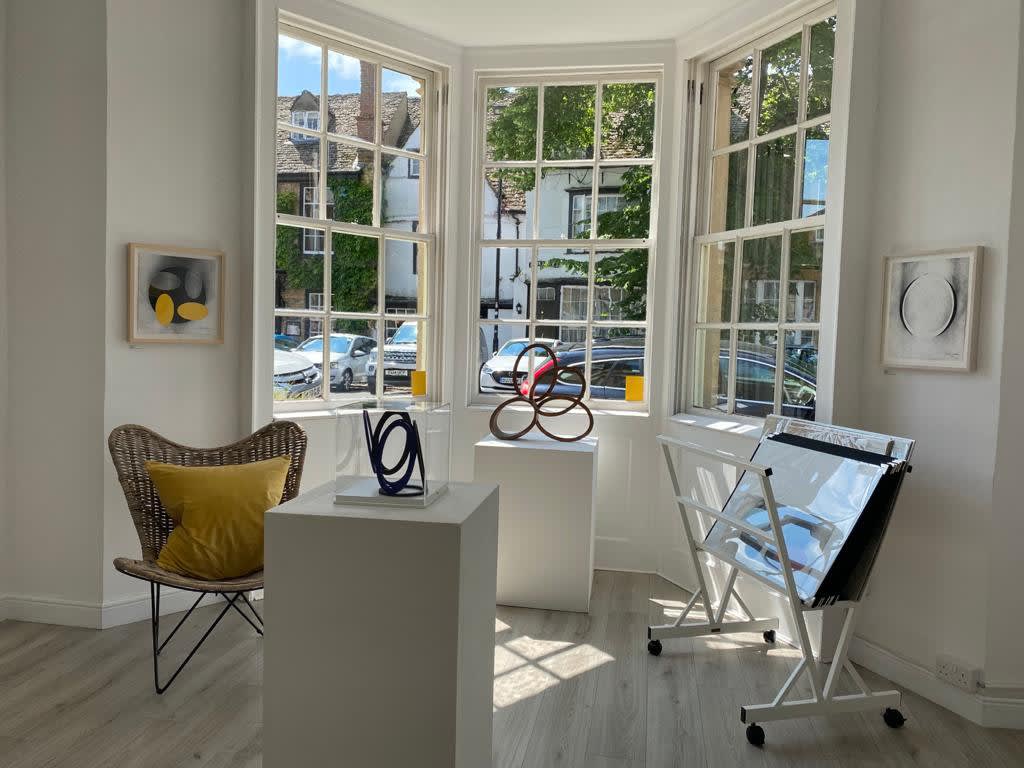 To launch our exhibition 'Nigel Hall and RA and Manijeh Yadegar Hall' we recorded an interview between, Nigel Hall RA, and Lizzie Collins, founder and director of Zuleika Gallery.
About the exhibition:
This exhibition includes works by Nigel Hall RA (b.1943) and his late partner Manijeh Yadegar Hall (1951-2016), who lived and worked together for over forty years. This exhibition includes new elliptical works on paper made in charcoal and acrylic by Hall, presented alongside Yadegar-Hall's textural paintings, and explores the intellectual and artistic dialogue between the two artists – a sculptor and a painter respectively – whose practices are both dedicated to abstraction and minimalism. Read more.
Quotes by Nigel Hall transcribed from the interview:
"I like when the sun comes up in one point in the studio, moves across, and the shadows change throughout the day. This is for me how sculpture should be seen, in moving light that changes throughout the day in different conditions" Nigel Hall.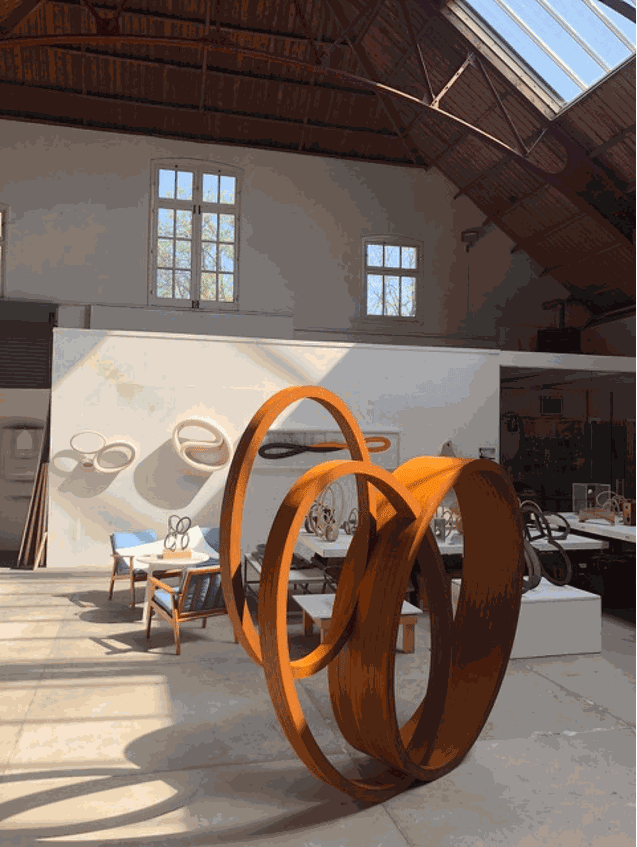 Nigel Hall RA, Natural Pearl, 2017, corten steel, 245 x 246 x 48 cm Sold. Image courtesy of the arti'st Studio.
Nigel Hall RA, b. 1943, Natural Pearl, 2017, corten steel, 245 x 246 x 48 cm Sold. Image courtesy of the arti'st Studio.
"The ellipse for me is one of the thrilling forms, it has a dynamic and elasticity. Just by drawing an ellipse, I must have drawn a thousand using the old method of two pins and a lupus string, I don't use computer, I intend to do with the old-fashioned method. But the dynamic of the ellipse, whether on a small scale or whether you think of it on the cosmos scale, you know we are all in this moment travelling through space in an elliptical orbit. I look at the table in front of me and there is a glass of water, the circle that forms the lip of the glass is an ellipse, is only a circle from a very specific point of view. So, most circles are everywhere but most of the time we see them as ellipses so in the image (on the right) which is the Saïd Business School commission from a few years ago, there are two circles, but we are reading them as ellipses. So, the circle itself become more dynamic when we move around the piece, and this is another thing: sculpture needs to be seen in movement and in stillness. I love the idea of sculpture being seeing like a dance, you have movement, and you have stillness. Point and counterpoint."….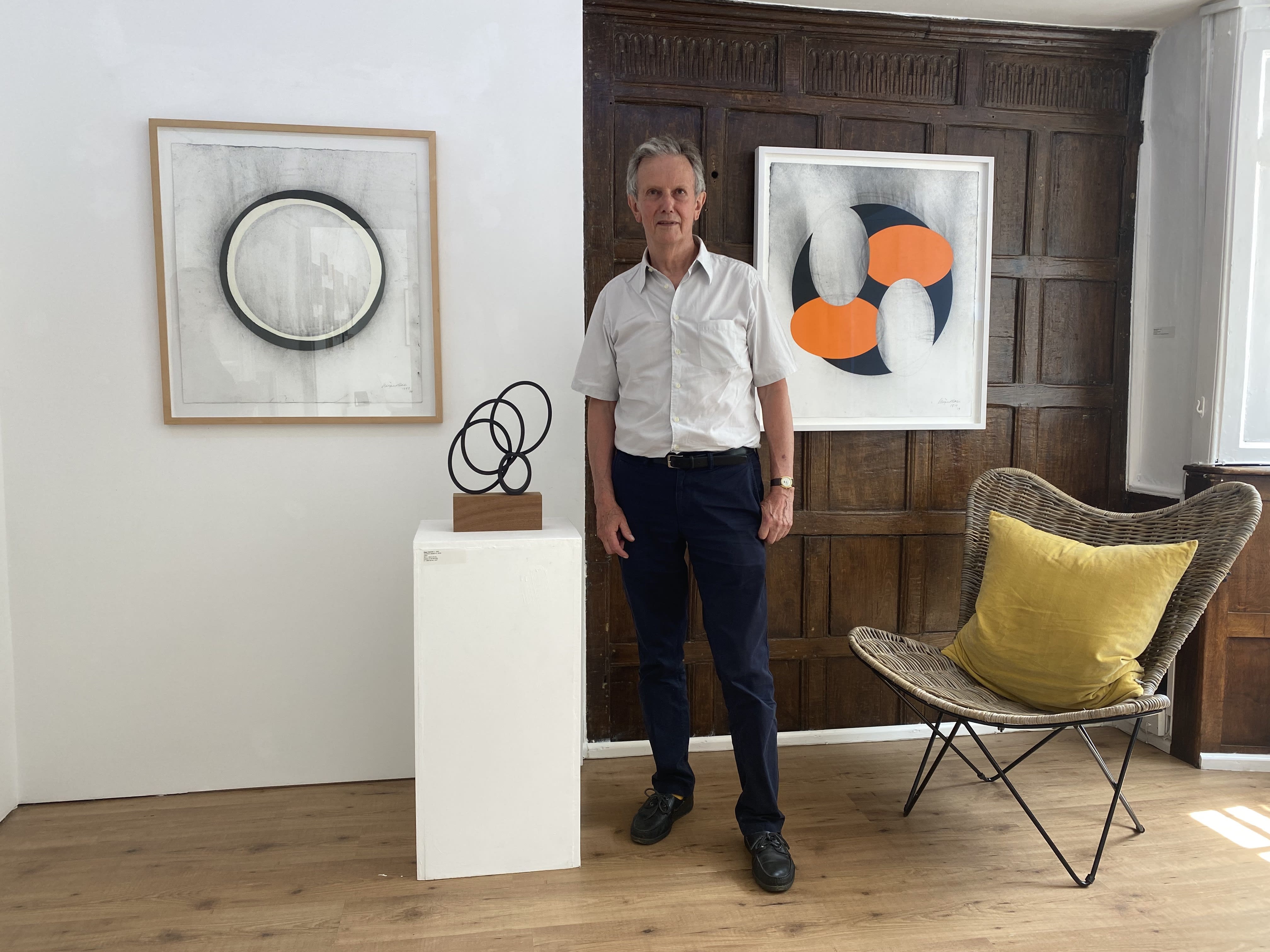 Installation shot of artist Nigel Hall RA at Zuleika Gallery, Woodstock.
"On considering the relationship between presence and absence in my work, it is about the Taoist philosophy The Full and the Void - Things which are substance and things which the substance indicates. In a way I think they also have the analogy of a potter, he makes the substance, which is the play, but the usefulness is absence, namely the interior, the emptiness of the pot. I've always made works that have a degree of transparency where the volume, or the presence is indicated in quite a sort of slight way. My works in aluminium tubing were very skeletal, very indicative of space. And I remember right from when I was a student some of the earliest pieces I made, there was a piece made in three parts where each part was separated in space from the next. So, the eye, the imagination had to jump that gap. But it is that absence or presence that just always interested me…
I made a sculpture once, a big fiberglass hill with a flag – a formalised flag – and for me the flag was indicative of how it will demonstrate the invisible wind, wind being invisible but the objects it touches made its presence felt…
In the drawing 1812, 2019, there's a circular drawing with two elliptical ovals is dark blue, and there's two absences. My series of new drawings is about this subject, where the emptiness is as potent as any other forms, in fact is given more drama and more emphasis..."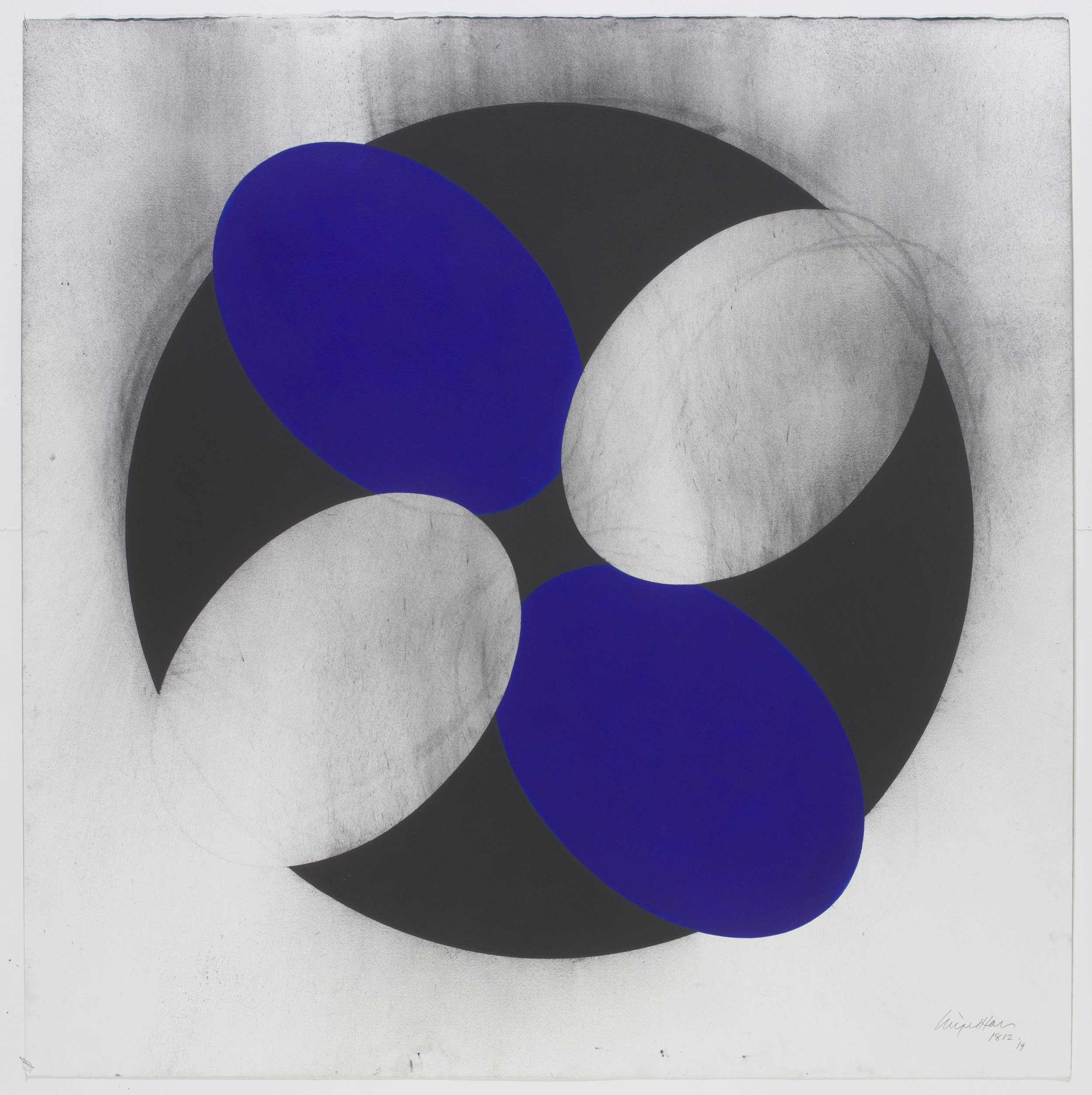 Nigel Hall RA b. 1943, 1812, 2019, charcoal and gouache, 122 x 122 cm £ 11,400.00
Click play to watch the full conveversation.
Nigel Hall RA and Manijeh Yadegar Hall exhibition is available to see both online and physically until 19 July 2021. We are pleased to be able to invite small groups for in person tours of the artist's studio at future dates. If this is of interest, please get in touch at info@zuleikagallery.com