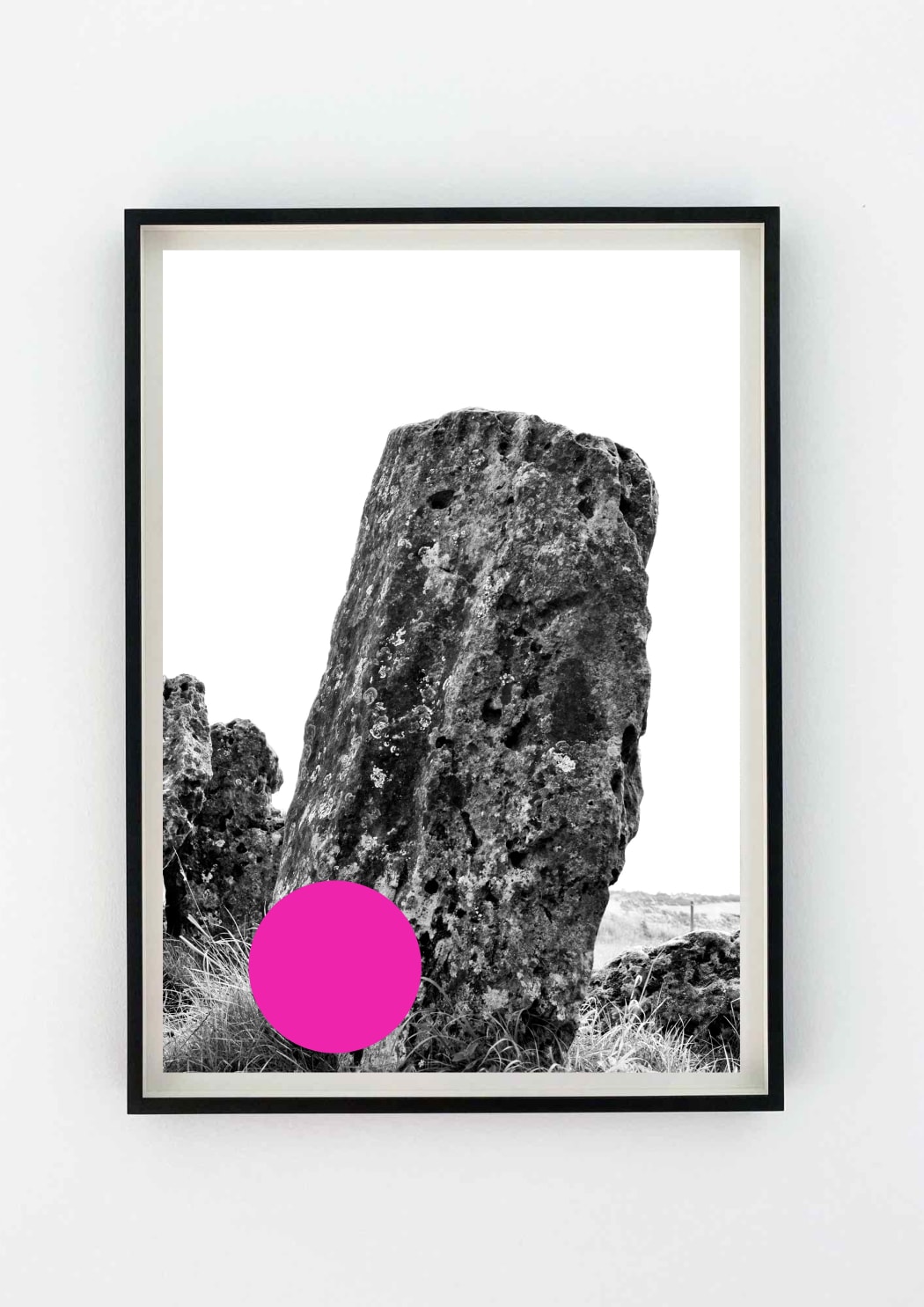 Z: When did you go to the Rollright stones?
A: This exhibition is a celebration of the Rollright stones through sculpture and photography. For the exhibition Amy visited the Rollright stones at the beginning of August this year after learning about the stones and their location from Tim Sayer, curator of the exhibition.
Z: What is it about these stones that particularly appeal and what do you think we can learn from them today?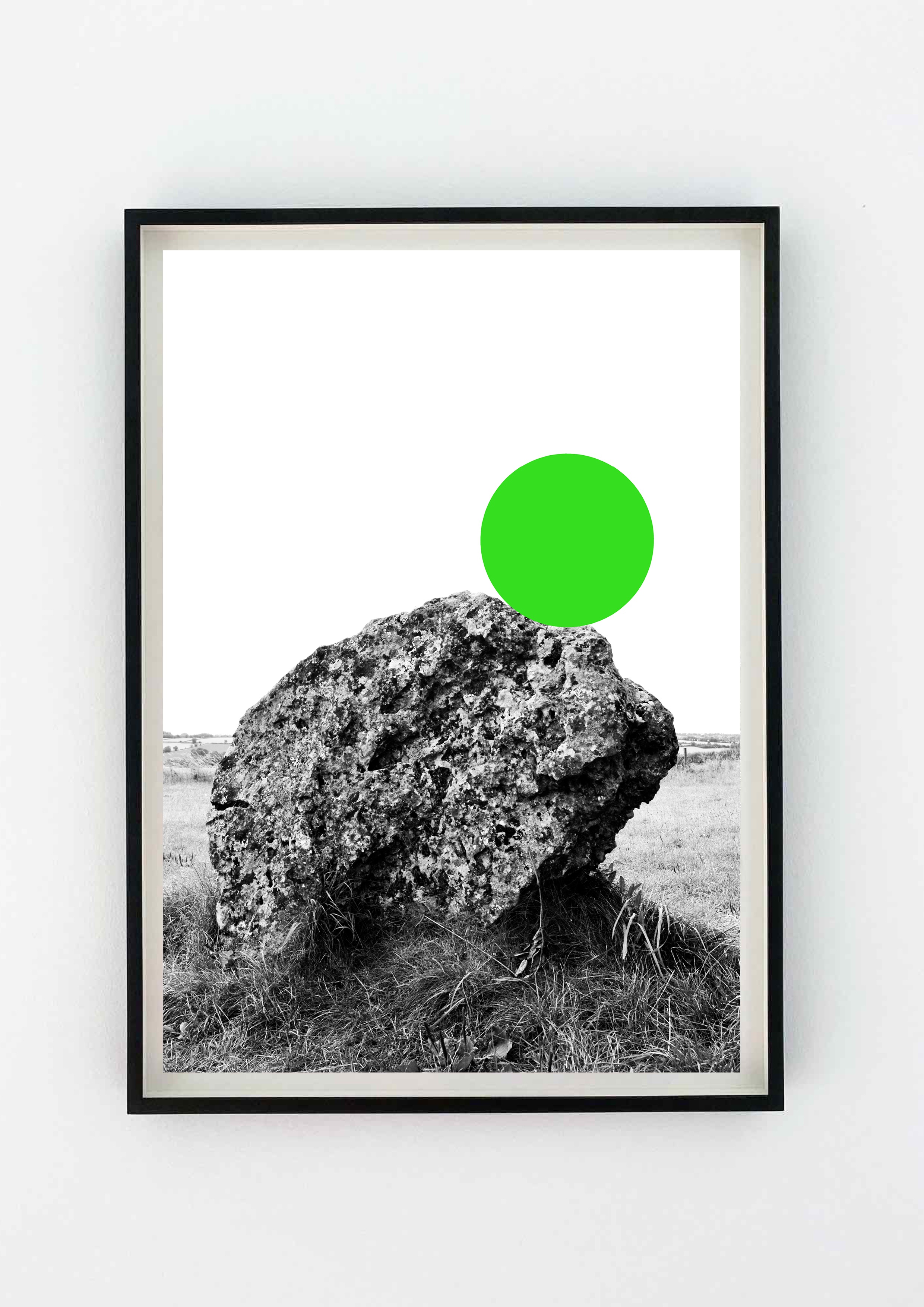 Amy Stephens A Stone is a Rock Out of Place 'V' 2021 archival pigment print 57 x 40 cm Edition of 10 plus 3 artist's proofs £850 inc. VAT
A: The definition of a stone in the Oxford English Dictionary is 'a hard solid mineral substance that is found in the ground, often used for building'. Spanning nearly two thousand years of Neolithic and Bronze age development, it is believed that the Rollright Stones were collected from within five hundred metres of the site. In the neighbouring Cotswold villages, this material has been used extensively for building churches, houses and stone walls.
"I'm fascinated by the underlying geology and formation of the stones. The structure is made from oolite, a sedimentary rock formed from ooids that are spherical grains composed of concentric layers.
A coloured sphere is then placed directly on top of each black and white photograph to highlight the underlying rock composition. The colours are informed by the ribbons that were located in the woods next to the Rollright stones. The ribbons appeared to be from a previous celebration, perhaps from around the time of the summer solstice."
"Based on the known geology, and how the stones respond to weathering, we all need to play our part in preserving these monoliths as they are living relics, pieces of treasure from the past that need to be respected."
Z: Can you tell us a bit about your choices of colour. You seem attracted to bright, neons, and to blue. What informs your colour choices in your work?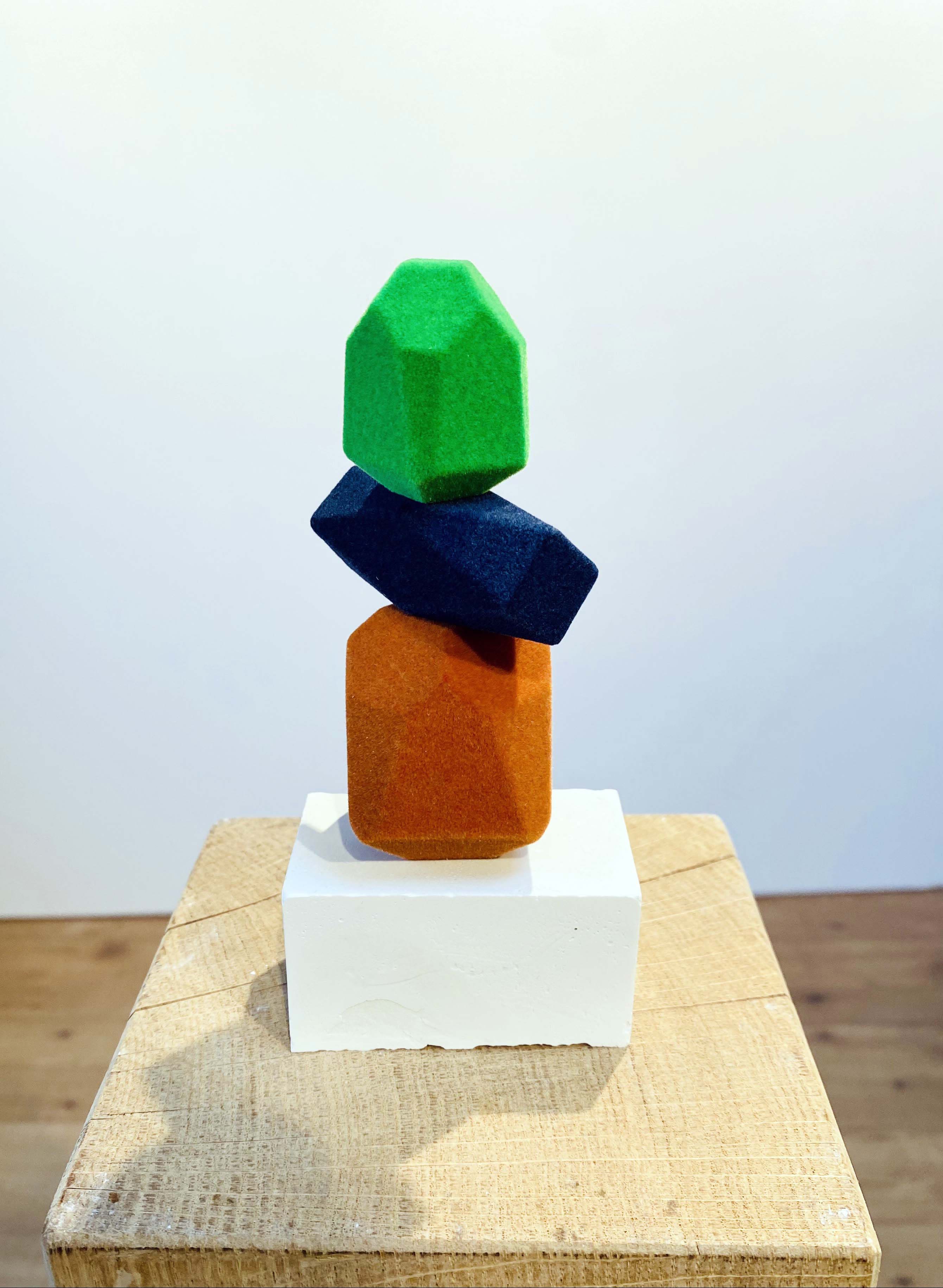 Amy Stephens, Magic Monolith III, 2021, cement, wood, fabric, 15 x 7 x 5 cm £550.00 inc. VAT
A: The colours in this exhibition refer to bright ribbons and offerings that were present at the Rollrights when I visited the site. Within my practice, I work with an array of colourful objects and neon tape that is often used to highlight a specific architectural feature or it might be used as a hazard tape to alert the viewer about the object in front of them. This is where the introduction of neon began in my practice.
Z: You use a lot of flock in your practise. What is flock? Can you tell us more about it?
Amy Stephens, Sun and Solstice, 2021, flock, wood, Polaroid, 30 x 60 x 10 cm £1,800.00 inc. VAT
A: Flock consists of synthetic fibres that look like hair. Flock fabric feels like velvet and depending on the length, it can be quite textural. The material offers a painterly surface and can be brightly coloured depending on the Pantone required. A light, gentle brush should enable the flock to stay dust free. It must not be kept in direct sunlight.
Z: Will you be making more work based on this experience at the Rollright Stones, or will you now be moving on to the next project? What is the next project?
A: "Yes, once I have had time to reflect on the show I will make more work based on my encounter with the Rollrights. Part of my process involves reappropriation so taking an object, artefact or material from a previous work and reusing it later on."
"My next project is a solo exhibition in Nicosia opening in November 2021. This exhibition is based on the monoliths and artefacts found at the World Heritage Sites in Cyprus. I am sure ideas and materials from this exhibition will inform the next show."
5. Can you tell us about your show at Canary Wharf now - how has that come about, when is it on for, is the work there for sale etc? What is the concept behind 'Steel Theatre' etc. That work is very visually different to the work we have here.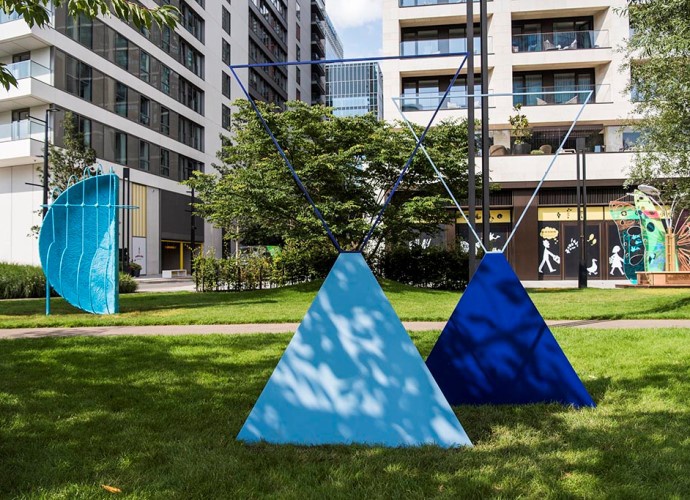 Image: Amy Stephens, Steel Theatre, 2021, Stainless steel, paint, Each H220 x W120 x D10cm
A: "I was commissioned for a group show called On the Other Hand curated by Brooke Benington Gallery. As an artist interested in geology, architecture and the reclamation of objects, I often work with man-made materials that frame a natural element rooted in a complex conversation surrounding the various environments that we move through and work within, on a daily basis. This artwork captures the iconic pyramid form found at the top of One Canada Square, a building clad with durable stainless steel. The cityscape materials that underpin the artwork create mini portals onto the continuously evolving landscape and high rise buildings behind. A mixture of light and heavy stainless steel is apparent with notions of suspension and anchoring. I continually reuse materials, allowing them to land and later re-land as new artworks.
Even though the blue steel sculptures appear more formal, my process of constructing and reconstructing is the same. My current practice and way of making is built upon preservation, sustainability and longevity, principles at the heart of my practice."