"I always wanted to paint. I came to weaving later in life. It is now a passion" Julia Engelhardt
Pictured above Julia Engelhardt's loom.
Zuleika Gallery is delighted to announce its next exhibition at Blenheim Palace's Stables Cafe, Weavescapes by Julia Engelhardt. The exhibition will be on view from Saturday 8th January continuing until the end of April.
This exhibition presents several different series of woven artworks by Engelhardt which explore the painterly and sculptural qualities of yarns and fibres. Engelhardt describes how she was 'set free' by discovering Sheila Hicks' 'minimes', and learnt to sketch and paint with yarns. She has been working on 8 and 16 inch shaft looms since 2013, creating poetic pieces - 'weavescapes'. The yarns and fibres are for Engelhardt lines of paint, each with its own colour as well as textural characteristics. "I often leave the materials I use hanging off the sides as I think it is interesting for people to see what they are and how each one 'behaves' when unconstrained."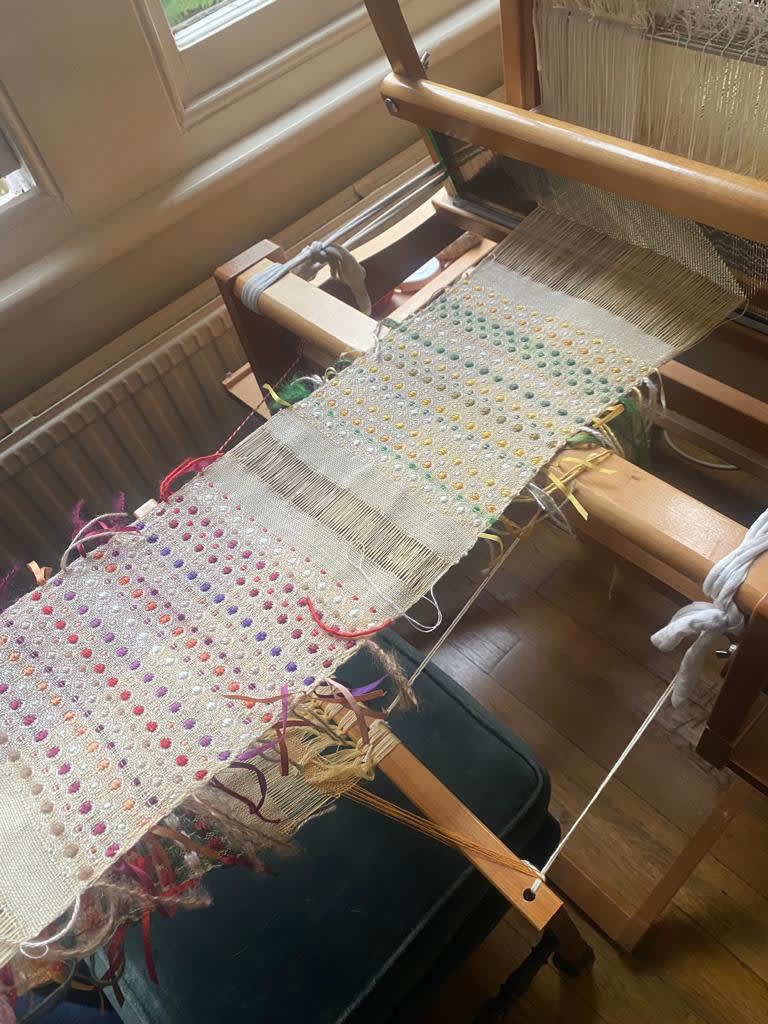 Pictured above Julia Engelhardt's loom.
This expressiveness and somewhat liberal approach is at the core of Engelhardt's work. She is constantly pushing the boundaries of her medium to achieve what she calls 'vivid expression'. "As an artist I am exploring the painterly and sculptural qualities of yarns and fibres within the relatively constraining context of a shaft loom [...] Above all, I am preoccupied with bringing movement to the rigid angular grid set by the shaft loom, often sacrificing the traditional stability of cloth for maximum expressiveness, giving yarns the space to 'breathe'." The inherent contradiction between the solid form of the weaving loom and organic, unruly yarns and fibres is mediated by Engelhardt's acute understanding of her medium.
Engelhardt cites Paul Klee and Anni Albers among her inspirations and credits her use of hand manipulated Leno to the 2018 Albers exhibition at Tate. "I love it for the fluidity that can be achieved". Other techniques used in the Blenheim exhibition include Honeycomb (also known as Waffle Weave), Lampas, Brocade, Cramming and Spacing and an old Peruvian technique, Intermesh.